G r a t i t u d e * S u n d a y
{Sunday's heartfelt tradition. A time to slow down, to reflect, to be grateful. A list of gratitudes.}
Today I am joining Taryn at
Wooly Moss Roots
to share some of the things I have been grateful for this week.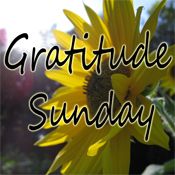 We had a very full and productive week with lots to be grateful for.
-I finally finished a giant filing project that had taken over my office, now all the papers are in organized, labeled files, hooray!

-Two wonderful evenings spent hanging out in our small town, listening to some classic rock bands, and eating good food, in support of a local woman fighting cancer. I love it when community gets together for a common cause.

-My two wonderful and helpful teens, who organized and dusted our many bookcases. So nice to have that chore done! Thanks Sarah and Joe!

-Our very abundant harvest of green and purple beans. Enough for lots of green beans this week, as well as two big batches put up in the freezer. We have been cooking them with garlic from our garden, delicious!
-Lots of time spent on my needle felting, I love working with wool, when needle felting you can almost sculpt it like clay.
-All of the bees helping to pollinate the veggie garden.
-All of the giant squash and their pretty bright yellow blossoms. This week will be all about Zucchini fritters,
stuffed zucchini
, zucchini bread, and the chance to try out new zucchini recipes!
-Two new pretty plants for the house. I found a very pretty color of yellow orchid to add to my kitchen window.
And my wonderful hubby brought me this beautiful Gerber Daisy. Thanks Gary!
-I am grateful for this delicious batch of snickerdoodles my daughter made for us, they made the house smell wonderful, and I love their yummy cinnamon flavor!
I am looking forward to a wonderful week, it is Clackamas County Fair week, I am entering my Brown Sugar Bacon Crumble Muffins this year, I have always wanted to enter the baking portion of the fair so I am excited. Looking forward to all the fair fun!
I am also really excited that I found an interesting place that I plan to explore later this week,
Wilhoit Springs
, it has quite an interesting history, and is only a twenty minute drive away. I love finding new places to explore!
I hope everyone has a great week. I will leave you with a verse that I was thinking of today.
"For I know that plans I have for you," declares the Lord, "Plans to prosper you and not to harm you, plans to give you hope and a future." Jeremiah 29:11